2017 Oral Board of Examination Results
General
Forty-one candidates participated in the 2017 Oral Board process, an increase from 30 candidates in 2016. For 34 of the candidates, it was their first appearance before the Oral Board, while 7 were returning candidates.
Results
Thirty-four licences were recommended by the board members, representing 83 % of candidates. In seven instances, a licence was not recommended by the board.
Most candidates were well prepared and demonstrated all of the competencies being assessed.
Among the candidates for whom no licence was recommended:
3 exhibited weakness across all competencies;
4 exhibited weakness primarily on judgment-based questions.
Of the 7 candidates who had previously attended the Oral Board, 4 (57 %) received a positive recommendation this year.
Observations
The Office of the Superintendent of Bankruptcy introduced its current competency-based Oral Board process in 2013, with 278 candidates having participated since that time. 30% of candidates have appeared before the Oral Board on more than one occasion. Of these candidates, 73% were recommended for licensing on a subsequent attempt.
The charts below provide information on the success rate of candidates since 2013 based on age, level of education and work experience.
Age
Success rates are very similar across all age groups.
Figure 1: Success rate of Oral Board candidates by age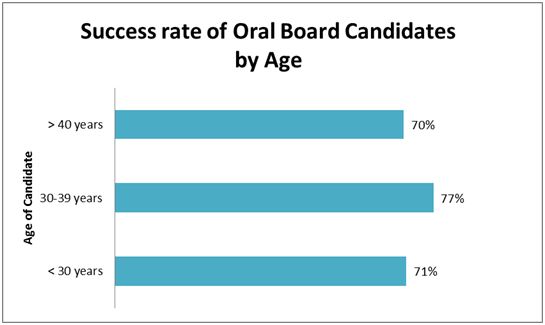 Education
Success rate of participants in the Oral Board process increases with candidate's level of education.
Figure 2: Success rate of Oral Board candidates by education level
Work Experience
Candidates with five to nine years of insolvency work experience have the greatest success in the Oral Board process.
Figure 3: Success rate of Oral Board candidates by work experience